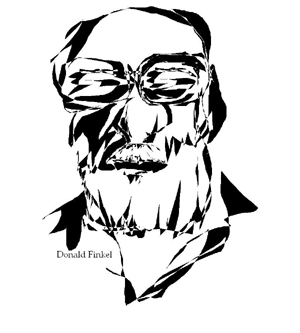 Excerpt from

Nouns were the first to slip away.
Was it because they were easier to forget,
or the most dispensable?

Funerals back then were milling
with nouns whose names he'd forgotten,
if he'd ever met them.

Evidently, somewhere out there
a swarm of improper nouns
had prospered and multiplied.

Odd nouns came knocking every day
looking for work, till the old bard
left off answering the door.


Autobiographical sketch

I was born in New York City in October 1929, the year of the Wall Street Crash — although I'm uncertain regarding any causal relationship. I grew up in the West Bronx, only a few blocks from Yankee Stadium. If I climbed to the roof of the building across the street, I had a partial view of the Yankee outfield, but very little of the game.
Finkel's work is noted for its range of subject matter and tonality, from philosophy to Rabelaisian humor, but all delivered in the voice of a tough New Yorker whose edge is only whetted by his unceasing appetite for the knowledge that comes from books and the experience that comes from living.