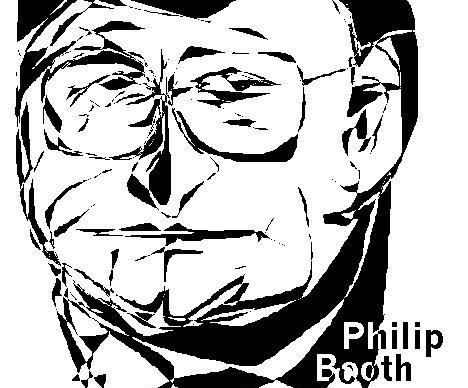 Excerpt from

OLD before Odysseus failed to plow his son,
great-flanked oxen knew the drag, the burden
man devised beyond his strength to pull.
Now lever, wheel, and piston make a spectacle...






Philip Booth at the Academy of American Poets

Philip Booth at the Poetry Foundation
There are two aspects of Booth's poetry that cause it to get lost in the shuffle of his more famous contemporaries mentioned above. Both aspects are entirely positive, but potentially detrimental when it comes to inclusion in future anthologies and lasting fame. The first is that his work is not dramatically original in the vein of Ashbery's postmodern antics, Merwin's sometimes mythic primitivism and unusual metaphysical leaps, and Rich's various formal experiments following her seminal 1971 collection, The Will to Change.
The second is that Booth's intention appeared to be to never write the same poem twice, whereas Ashbery's and Merwin's and Levine's books essentially consist of poems written in the same style and with the same poetic strategies creating the same effects, which makes finding a satisfying wholeness in their work and categorizing them relatively easy.
From a review by Russell Astley
He's "Pastoral" as Frost is pastoral: his most common settings are not the idyllic pastures of Virgil but the "Hard Country" of Maine, both rural and wild. The Booth of these poems spends the "turning year" keenly aware of seasons, solstices, equinoxes, constellations; he writes more often and often more sympathetically of the rocks and trees and birds on the mountains and at the sea's edge than he does of his neighbors.
He's "Romantic" as the manifesto of the unabomber was romantic: he believes organic nature and the culture of technology are at war and nature is losing. He sees the natural as good, true, and poetic but past or passing, doomed to become the road-kill of a technological juggernaut bearing down on us more oppressively and boringly every day.
Five poems
Go to Poetry Portraits home page
Go to Tad Richards home page