Anthony Robinson
Author's Notes
---
The Member-Guest
Donald I. Fine, New York, 1991
Buy this book now at abebooks.com
Search for this book with books.google.com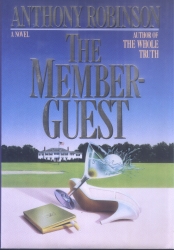 The writer looks into areas or aspects of his life that can, or might, serve him in his work. That which he knows is likely to turn up in his pages. One such area of my life is the game of golf. I have played it, off and on, since my days as a caddie at the Woodstock Country Club starting when I was ten. When my wife Mary and I moved to New Paltz in 1971, our new home was a half mile from the local course. After she died in 1976, our 13-year-old son, Henry, took up golf, and after a long layoff I started playing it again, many times with him as he grew up and later with my second wife, Tania.
I play golf reasonably well and, through the years, have been a keen observer of the game, and it occurred to me that golf would make a fine backdrop for a novel. As so often in my career as a novelist, I was looking for a story, a place to begin. Unexpectedly, it came to me. One of my old friends from college was a member of the Westhampton Country Club on the south shore of Long Island, and, wanting to see me again after a good many years, he invited me to play in a member-guest tournament--three days of competitive, not-always-friendly golf, with plenty of socializing afterward; and when I got home I had a novel brewing in my head.
When The Member-Guest came out in 1991, I heard via the grapevine that I was now persona non grata at the Westhampton Country Club. I can't say it bothered me. What concerned me was that my friend, the Westhampton member, didn't speak to me for a couple of years. Donald I. Fine, who published The Member-Guest and other books on golf and was a great follower of the game, told me he thought I was the best writer on golf in America. True or not, in an odd way it compensated for the many dismal rounds I've had as a player.

---
The Whole Truth
Donald I. Fine, New York, 1990
Buy this book now at abebooks.com
Search for this book with books.google.com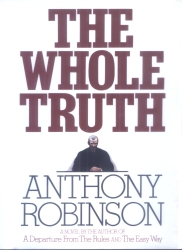 My sister Robin's second husband, George Raymond, was a widower whose wife had been murdered in the Southern Tier of New York State in the mid-1980s. I had a notion that the details leading to the murder and the immediate aftermath would serve the novelist well, and on a visit one weekend to their home in Greene, New York—George was the chairman and CEO of The Raymond Corporation headquartered in the town—I sat down with him and his new wife, my sister, saying I had a question. It was a delicate question at that: would they mind if I used the murder of George's first wife as the basis of a new novel I wanted to write?
Not at all, they both answered. Again, I stayed away from written reports of the murder and trial, though George told me some of the events of that day: coming home from his office and finding his wife missing, calling the police, the initial search. A suspect was arrested and convicted but no clear motive was ever established. Enter the novelist to provide one. The Whole Truth has a setting of rural America—much like Ulster County, where I grew up—and I felt at home, writing it, from the beginning.

---
Home Again, Home Again
William Morrow, New York, 1969
Buy this book now at abebooks.com
Search for this book with books.google.com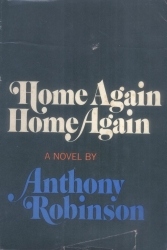 When my first wife, Mary, and I left New York City in 1960 and began living in the smaller of the two houses my parents owned on Maverick Road in Woodstock, New York, IBM had just opened a plant in Kingston. That meant new houses and housing developments springing up in nearby communities, and an area hit hard by the influx of houses and people was Woodstock, especially Maverick Road. At the end of WWII, fifteen years earlier, I had assumed, naively, that the Maverick Art Colony, which had become dormant during the war years, would come back to life, start up again. Except for Sunday concerts in the Concert Hall, it never did. The Hervey White era had passed; what followed was the post-war era (still going on) of development and expansion.
Home Again, Home Again was a difficult novel to write, largely because I started it without a story line. What I had was a theme of changing landscapes, the trampling of rural America to accommodate business and industrial growth. I wasn't the first to write about it (Chekhov had done it in The Cherry Orchard in 1904) and I wouldn't be the last.
One night, reading quietly, I saw headlights in the big fields across from our house. A road was going in; soon we would be hearing the sound of hammer and saw. Not wanting simply to resign to the inevitability of it, I put the fight into the hands of Roland Gray, the main character in Home Again, Home Again, who struggled to keep the art colony he loved from falling into commercial hands.

---
The Easy Way
Simon & Schuster, New York, 1963; MacDonald, London, 1964; Baldini & Castoldi, Rome, 1965; Editions Fleuve Noir, Paris, 1965
Buy this book now at abebooks.com
Search for this book with books.google.com



After A Departure From the Rules came out, I wanted to get started on a new novel but I was bogged down; no idea took hold. I was afraid I might have what my father called "single novel syndrome," a suspicion or fear that the writer doesn't have a second novel in him.
My father, the writer Henry Morton Robinson, gave me the idea for The Easy Way, reminding me of a murder that had taken place several years earlier of a wealthy, socially prominent man, the owner of a famous race horse. In my father's view, it would make a great novel. He even had a title: The Fiduciary Set.
The title did nothing for me but I liked the idea, and I began pulling the pieces of a story together, superficially based on the actual case--much as my first novel was loosely based on the collision of the Hobson and Wake. It wasn't facts I wanted. As for thoroughbred racing, I enjoyed following it in the sports pages but knew little about it on a personal level; but I knew something about polo. My brother-in-law, Bill Ylvisaker, was an 8-goal player, and I went to his matches in New York City's Squadron A Armory, in Saratoga, Meadowbrook and West Palm Beach. In writing The Easy Way, I switched the scene from racing to polo.
I also felt at ease describing the world of lawyers, a major part of the novel. My father had urged me, several times while I was in college, to go into law, believing I would do well because, as he said, I had "a hard head and a soft heart." The lawyering career wasn't in the cards but I found myself, early on, writing successful courtroom scenes. In A Departure From the Rules it was a court of inquiry and in The Easy Way a grand jury hearing. I was a lawyer (of sorts) after all.

---
A Departure From the Rules
Putnam, New York, 1960; W.H. Allen, London, 1961; Longanesi, Milan, 1963
Buy this book now at abebooks.com
Search for this book with books.google.com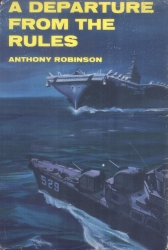 I began my first novel, A Departure From the Rules, when I got out of the U.S. Navy in the fall of 1956 ; but I got the idea for it a year earlier while I was the gunnery officer on board the USS Owen, a destroyer, on duty in the South China Sea. Early one morning, leaving the bridge at the end of the mid watch, I stopped by CIC (combat information center) to relax for a couple of minutes before heading below decks to turn in. I talked with the officer who had just assumed the watch in CIC, rapped with a couple of the enlisted men, then reached for a popular magazine of the day, Argosy, lying on a table. I opened it randomly to an artist's depiction of an aircraft carrier bearing down on a destroyer during maneuvers at sea. The title of the story that went with the picture was: "The Night the Hobson Died."
I skimmed the true-to-life account of the collision that took the lives of 176 sailors on board the Hobson when the USS Wasp hit the destroyer midships and cut her in half on the night of April 26, 1952. As I sat there in CIC, absorbed in the account, I realized I was putting the events of that fateful night into a story. As an officer of the deck on the Owen, I knew the inherent dangers of operating with carriers during flight operations, with both ships making twenty-five knots or more, especially at night. There was no room for error on the bridge of a destroyer during these maneuvers; a wrong command to the helm could mean disaster.
Released from active duty, I went home, began the novel and, just in case I couldn't find a publisher for it, entered graduate school at Columbia. My working title for the books was Death of the Dobbs. Putnam accepted the novel. My editor at the publishing house, Howard Cady, thought we could come up with a better title. A week before the book went to press we still didn't have a name that we liked. Bored with a course I was taking in 17th Century English literature, I sat in the classroom racking my brain, suddenly remembering the General Prudential Rule as it pertained to International Rules of the Road. I jotted it down on the page where I was supposedly taking notes. "In obeying and construing these rules, due regard shall be had to all dangers of navigation and collision and to any special circumstances that may render a departure from the (above) rules necessary in order to avoid immediate danger."

---
Novels ** Reviews ** Author's Notes ** A Brief Biography ** Publications and Fellowships ** Contact Me
Statistics
This page has been viewed 4132 times
Page rendered in 0.1728 seconds