Anthony Robinson
American Novelist
---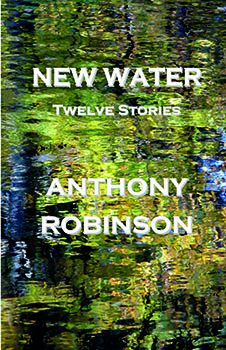 New Water
Twelve Stories
Bluestone Books, 2013
Order now through Amazon
Fly fishing in the golden mean, revenge served cold on the therapeutic cliffside, ski slope consequences for the lothario's braggadocio, neighbor giveth good cheer and taketh all peace, the bad art scene, man vs. Navy, gin vs. bureaucracy, small town boyhood tragedy. This collection is that dream store in the countryside you go searching for on weekend drives, the one that stocks the real goods. Tony Robinson's stories find the listening part of your soul and then he's got you.
---
Also by Anthony Robinson
---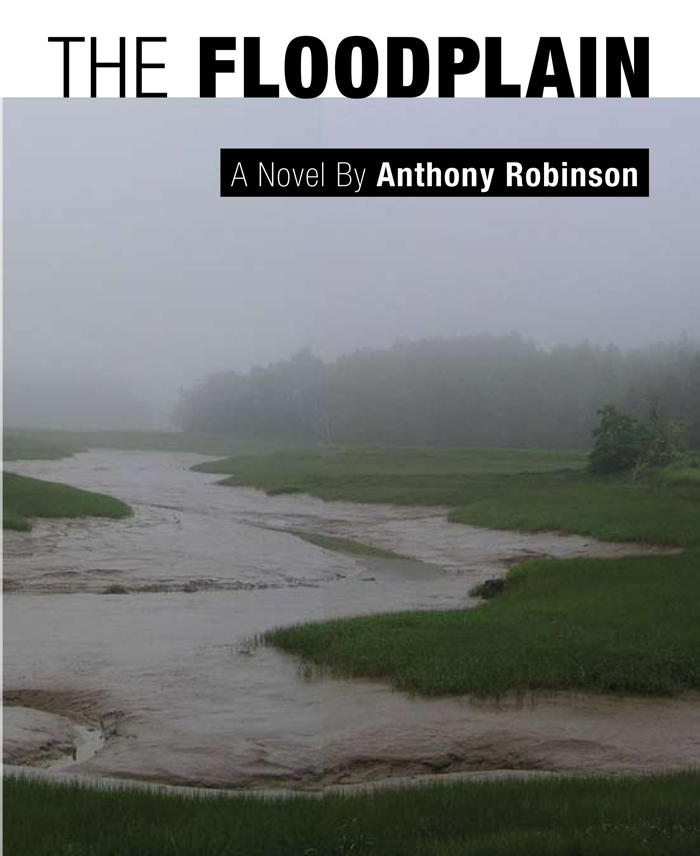 The Floodplain
Codhill Press, 2011
Purchase from Codhill.com or Amazon
A turbulent era...a family torn apart.

A spellbinding novel of infidelity, death and revenge.


The time is the era of sexual and cultural upheaval, in 1970s America. When beautiful Chloe Forrester, wife and mother of two, meets charismatic psychiatrist Dr. Evan Kendrix, she finds herself torn between her conventional marriage and a career in the exciting new field of humanistic psychology. Kendrix becomes Chloe's mentor and lover...only to betray her. Chloe's inner demons take over and she loses touch with reality. Her distraught husband, Professor Rick Forrester, must struggle with his murderous feelings toward Kendrix and at the same time his own sense of responsibility and failure to act...as Chloe spirals tragically downward. When the psychiatrist again becomes involved with the professor's family, Forrester takes action. The Floodplain tells the gripping story of a man's struggle to safeguard those he loves and to complete his own emotional journey during a time of sweeping change.
---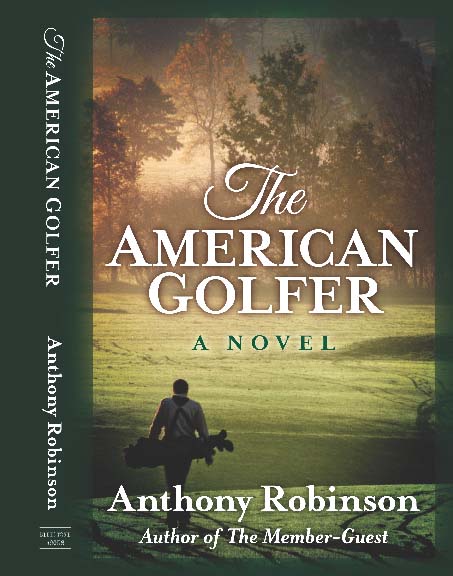 The American Golfer
Bluestone Books, 2010
Order The American Golfer from Amazon -- available now!
Anthony Robinson, acclaimed as America's consummate golf novelist, returns with this sweeping new novel of conflicting passions—golf, a clandestine affair, and the history and soul of Ireland. At its center is an American pro golfer who finds himself challenged and tempted as never before.
Charlie Kingston, a PGA Tour player done in by the rigors of his profession and a tragedy at home, has planned a vacation in the village in Ireland where his great-grandmother once lived, hoping to find her grave. He finds much more. The house he has rented contains secrets that pull Charlie into lives of revolutionary fervor, challenging his easygoing core conservatism. A friendship with a local tavern owner involves him in a family drama of abuse and generational conflict. A sinister bodyguard threatens his life. Most of all, a passionate affair with Lora, wife of a wealthy Brit who owns an estate with an ultra-private golf course, draws him into a strange triangle that leaves him questioning how much of his loyalty, even his soul, can be bought.
The American Golfer is a novel of romance, political intrigue, and personal revelation. Set against the backdrop of a country in transition and the great game of golf, it tells the story of Charlie Kingston's journey to self-discovery.
---
The Member-Guest
Donald I. Fine, New York, 1991
Buy this book now at abebooks.com
Search for this book with books.google.com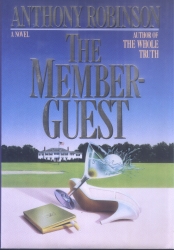 Evocative of O'Hara's Appointment in Samarra and Albee's Who's Afraid of Virginia Woolf (with the golf expertise of Jenkins' Dead Solid Perfect), The Member-Guest combines the country club milieu with the games adults play—on and off the golf course.
Each summer across America, weekend golfers undergo rigorous training for the most lavish and most hotly-contested tournament of the season: their club's Member-Guest, in which members invite outside golfers to play as their partners. But there's a lot more than prestige at stake when Augie Whittenbecher is asked to play by his old friend Gordon McSweeney, a member of the posh Easthelmsford Country Club on Long Island's South Shore.
As the festivities begin it becomes clear that behind the handshakes and laughter are the seeds of envy, betrayal, seduction, and maybe even true love. For starters, Gordon's wife Catherine has her own plans for a late-night twosome with Augie. To make matters worse, Augie's prep school golf rival resurfaces as another member's guest, accompanied by his new fiancee—the woman of Augie's dreams. As the tension over who will win The Member-Guest—and get the golden girl—builds to the eighteenth hole, the real drama tees off on the proverbial "nineteenth."
The Member-Guest is an ironic and erotic vision of America's country club elite revealing the jealousy and ambition beneath the veneer of gentility in this cloistered slice of Americana.
---
The Whole Truth
Donald I. Fine, New York, 1990
Buy this book now at abebooks.com
Search for this book with books.google.com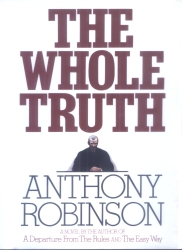 Here is the powerful, compelling story of how one "ordinary" man's innermost lusts and yearnings topple the order of his existence, then are laid bare when he is put on trial for the heinous murder of his wife.
The setting of The Whole Truth, carefully crafted stone-by-stone, in unabashed homage to the rhythms of small-town life, is Winwar, New York, a quiet place surrounded by forests and fields where for years its protected residents have hunted and fished and farmed.
Leonard Bradley, among the most protected, is the scion of the weathiest and most influential family in town. A "conventional man," he has taken the reigns of the family business from his stern, demanding father, has devoted his life to the family and to the company.
But after thirty years of marriage, Leonard Bradley has fallen out of love with his wife Phyllis and in love with a beautiful divorcee in New York City. Bradley, a decent fellow, tells his wife he wants a divorce. A woman of strong moral principles and strength he never expected, she tells him she will never grant him one. During the confrontation she utters the fateful words: "Over my dead body." What now looms ahead for Bradley is a messy divorce, a lengthy legal battle, a large settlement, and alimony payments. Leonard Bradley does what any "normal husband" might do: he fantasizes about his wife's death. How convenient it would be if Phyllis simply disappeared.
Bradley's momentary fantasy leads to a very different kind of ordeal when Phyllis indeed fails to come home from one of her long walks in the country. Her partially decomposed body, shot once in the head and showing unmistakable signs of rape, is found one week later in a remote wooded area. Leonard Bradley is the only suspect. Circumstantial evidence—the bullet, the gun, the clothing fibers—points directly at him. He also had the motive, the opportunity, the means—and no alibi.
Bradley's only defense in the face of such overwhelming evidence is to tell the whole truth—about his affair, about the $2 million insurance policy on his wife, about his compromising thoughts and feelings and intentions—a truth he is reluctant to reveal, and one that will not necessarily guarantee his acquittal.
As the trial of Leonard Bradley marches relentlessly toward a verdict, Bradley's son, a 31-year old Harvard graduate who dropped out of the family business, surfaces to play a major role, launching his own crusade to unmask the killer who brutalized his mother. The Whole Truth is at once a masterful tale of suspense and a tension-filled courtroom drama with echoes of Robert Travers' famous novel Anatomy of a Murder.
---
Home Again, Home Again
William Morrow, New York, 1969
Buy this book now at abebooks.com
Search for this book with books.google.com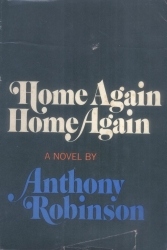 When a large electronics firm wants to buy the land of an old art colony where Roland Gray has lived since birth, he wages a valiant fight against company executives and local politians who would turn the colony into an industrial park.
But the struggle is not only Roland's. His extremely attractive wife is leading an isolated austere existence with her writer-husband. When Phoebe meets the firm's general manager she sees in him all that her own marriage lacks: excitement, travel, elegance. Severly divided, she at last goes over to Robert Herter. Their affair is passionate and fatal.
Home Again, Home Again portrays the encroachment of suburbia on rural America, the commercialism of our age, the self-estrangement plaguing men and women in today's desperate society. But it remains the tender, tragic, human story of a man—an individualist—endeavoring to survive in a changing world.
---
The Easy Way
Simon & Schuster, New York, 1963; MacDonald, London, 1964; Baldini & Castoldi, Rome, 1965; Editions Fleuve Noir, Paris, 1965
Buy this book now at abebooks.com
Search for this book with books.google.com



Take a handsome, young, idealistic law graduate from Wisconsin—a trace of hayseed still in his hair—and spot him for a year in the aristocratic office of a downtown New York law firm specializing in trusts and estates.
Next, send him out among the rich polo-playing set of suburban Norwood County, and tell him he'd better get some new business in the office—or else.
How does he get it? And what's the price?
He sets out to get it in the most innicent and easy way possible—by attending a Norwood party, by charming the guests with his looks and modesty, and by smoothing over an incipient fistfight. He goes on by accepting sailing invitations, by frequenting polo matches, and by winning, through his patent sincerity, the friendship and resepct of a millionaire polo player—and excellent prospect.
But it isn't, he finds, so easy and simple as all that. For he gets it too, by sleeping with his beautiful hostess, who just happens to be the millionaire's wife; he gets it by breaking up a long-standing lawyer-client relationship; and he gets it by a bit of brawling, a bit of lying, a bit of cheating—though all from what he considers the worthiest of motives.
But the price must be paid. And what is it? Nothing less than murder, suicide, perjury; loss of honor, decency, character. In the eyes of his aristocratic employer and mentor, he is a complete success. In his own eyes? Maybe, maybe not.
This fast-moving hard-hitting novel goes even further than A Departure from the Rules, Mr. Robinson's brilliant first novel, in facing unflinchingly the moral and psychological problems of a generation bent on achieving success—the easy way.
---
A Departure From the Rules
Putnam, New York, 1960; W.H. Allen, London, 1961; Longanesi, Milan, 1963
Buy this book now at abebooks.com
Search for this book with books.google.com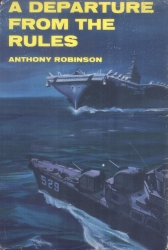 Here, in a superb novel of the sea, is the story of the destroyer USS DOBBS, and of the officers and men who lived and served aboard her—of their ambitions and their fears, their quarrels and their loves ashore, their guilt and their heroism, and of each one's part in the worst peacetime disaster in the history of the United States Navy.
When Gerald Karst took command of the Dobbs, he had one obsessive purpose in mind: to restore strict military procedures, to surpass her great wartime record, to make her the sharpest ship afloat.
The heart of this compelling novel is the psychological conflict between the Naval Academy-trained captain of the Dobbs, and his Gunnery Officer, a reserve from Yale.
Lieutenant (jg) Allan Byrne, bright, efficient, hard-working, Gunnery Officer of the Dobbs, had inherited from the former captain the respect and confidence of the crew. Was it his youth, his charm, his standing with the men, that made him the focal point of Karst's campaign? Or was it Byrne's involvement with Joan Karst, the Commander's teen-aged daughter?
This moral struggle culminates, on a dark night in the Pacific Ocean, in the decision which took the Dobbs to her death. At the Court of Inquiry convened to establish the cause of the disaster, the testimony leads ultimately to the deep human failings of the participants, and to the consideration of Lieutenant Byrne's moral fitness to command.
Sweeping in its scope, authentic in its background, A DEPARTURE FROM THE RULES is a bold and moving novel of a bitter psychological conflict—and of the moral disintegration that plagues our times.
---
Novels ** Reviews ** Author's Notes ** A Brief Biography ** Publications and Fellowships ** Contact Me
You are visitor number: